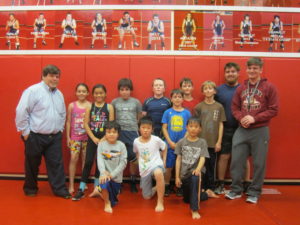 There will be practice on Tuesday, November 21 but no practice on Thursday, November 23 or Saturday, November 25.  The last practice before the winter holidays will be held on Saturday December 16 with a break until Thursday, January 4.  
Due to AHS tournaments there will be no practice on Saturday, January 13 or Saturday,January 20.
The fall season begins on Tuesday, September 12 and will go until December 16 excluding school holidays. Practices will be held on Tuesday and Thursday from 6:30 – 7:30 and Saturday from 10:30 – noon. All practices will be held in the wrestling room at Albany High School.
The Crocodile Wrestling program is designed for 1st – 5th grade boys and girls to learn basic wrestling techniques.  Participants are paired with other wrestlers of similar weight and age.  Every practice is supervised by coaches with wrestling experience and is lots of fun. The sport of wresting includes tumbling and stretching and improves coordination and agility. Socialization and team building skills also increase as wrestlers work together becoming one team.  No previous experience is necessary to participate.
Please download a registration form 2017-18 with concussion policy here